Gawk Gawk 3000 Meme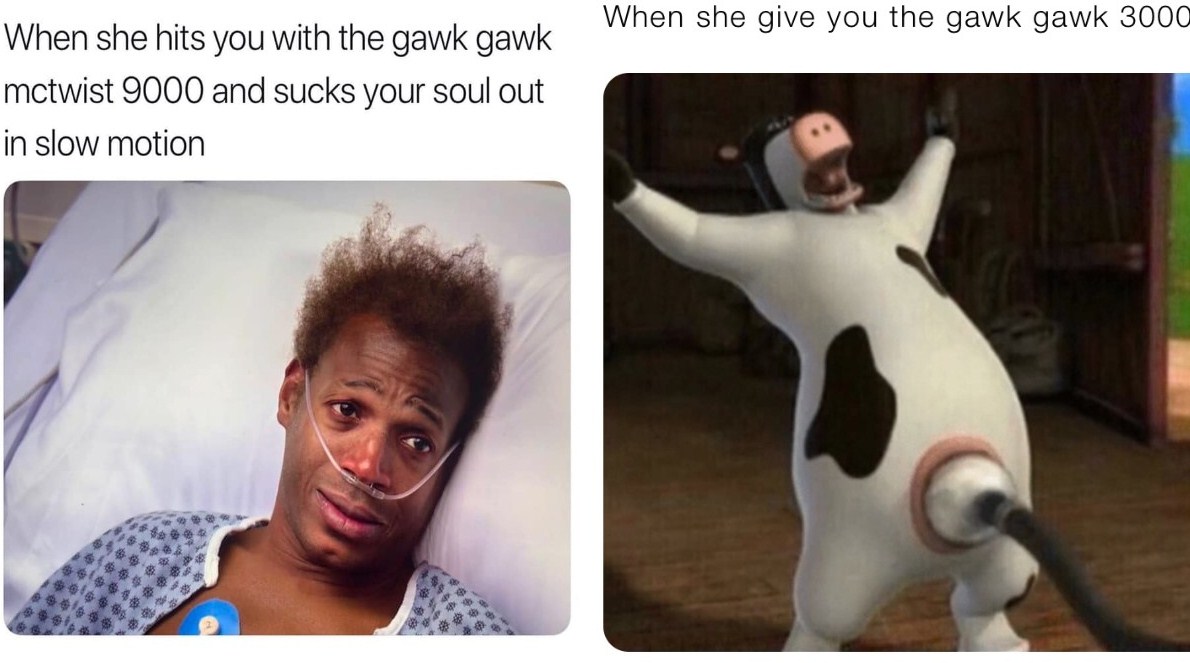 Gawk Gawk, also known as Gawk Gawk 3000 / 5000 / 9000, is a slang term for fellatio, typically used in an intentionally exaggerated way for humorous effect. It's an onomatopoeia of the act that happens when the penis hits the pharynx, cutting off the air supply and making the audible sound "gawk." Since the term's first usage online around 2017, it has also been used to describe the act while part of a longer stream of adjectives to make it sound very impressive.
Origin
On August 23rd, 2017, the Twitter account @KingMiller_[1] used the term "GAWK GAWK" in relation to oral sex for the first time, while using a video of DJ Khaled to describe the act as something that the meme creator presumably really likes (shown below).
When you fucking her face and she start making that "GAWG GAWK GAWK" sound pic.twitter.com/xVfCRJuseg
— 🥇🆙🔝👳🏿‍♂️ (@KingMiller_) August 24, 2017
A year later, on March 12th, 2018, the term was added to Urban Dictionary as part of a combo phrase, called "vacuum seal double hand twist gawk gawk combo 3000,"[2] which would become the dominant way that the slang term would be used going forward (shown below).
On January 27th, 2020, Redditor setherson25[3] uploaded a meme to the subreddit /r/BrandNewSentence in which the sentence was about someone going through a herculean effort of trying to last through a "Vacuum seal triple double hand twist gawk gawk combo 3000," while showing an image of Goku during his fight against Freiza (shown below).
On January 11th, 2021, the TikToker 1summerofficial[4] uploaded a TikTok in which they sketch out the aftereffects of a Gawk Gawk 3000, in which the male is left having a seizure on the bed, earning over 465,000 likes in one year (shown below).